Denizli Province
Attractions
While Pamukkale is the major draw for people visiting the area it is far from being the only attraction in Denizile City or the wider Denizili Province. Having been at the center of the major historic Phrygian region since classical times it has never been without interesting things to see and do.
Whether you were a first century Roman senator on vacation, or a 21st century global traveller, there is something to suit in Denizli!
Here are some of the highlights and unusual items to see.

Countryside - The area around Denizli has some of the greatest countryside of Turkey making it a real garden, not just of argriculture, but of wildflowers and natural herbs and bushes. While modern highways connect cities there are also quiet country roads linking up the small villages of the plains and of the hills along which you can drive for miles without seeing anyone other than a local farmer or sheep herder.
Pamukkale Winery - The 3rd largest winery in Turkey, now with many other facilities around the country, this is their original and main winery. Stop by for a tour of the facilities and a tasting of some of the best produce.
Salda Gölü - Salda Lake - Located in Burdur - The third largest lake the country, outside the province so the south, south east but well worth the drive to visit it. There are miles and miles of soft sand beaches, clear blue water, and hardly a person to be found.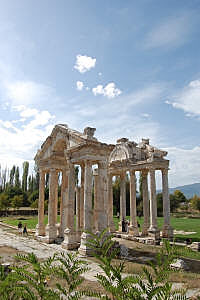 Aphrodisias - (Pictured) Not strictly speaking in Denizli Province but just over it's western border is this famed historical city, named after the goddess of love, but home to generations of stone carvers who created statues all over the old empire. A chance to see a famed Roman ruin, without the crowds of Rome. Contains the ruins of one of the largest Stadia in the world with a seating capacity of 30,000 romans!
Kaklik Cave - Kaklık Mağarası, just a short drive north of the village of Kaklık is a rarely visited but beautiful set of caves which are home to formations similiar to those at Pamukkale, but underground.
Laodikeia - Or LAODICEA AD LYCUM in Latin - A location mentioned in the Bible in the Book of the Revelations of St John the Devine this is an actively being investigated archeological site. Visited by some tour groups this site is more often deserted.
Colossea - Where St Paul wrote his Epistle to the Colossians.
Denizli Rooster Statue - The Largest Outdoor Glass Statues of a rooster, this monument in the civic center of Denizli City was opened by the Mayor in 2013 to commemorate the status of the Denizli Rooster and the cultural and economic benefits it has brought to the region. The choice of glass also reflects the importance of the modern glass making industry to the region.