Cleopatra's Antique
Pool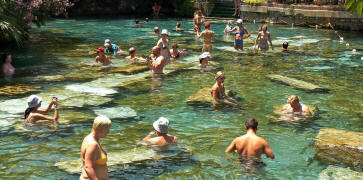 Situated above the Pamukkale white travertine pools is one particularly spectacular location fed by the same hot springs. Here you can bath in the same waters in which Cleopatra once swam! A professionally run modern spa facility allows you to enjoy these historical healing waters.

Unlike the white water of the lower pools the Antique Pool favored by Cleopatra, Queen of Egypt, is pure clear warm water. Once it was surmounted by a Roman Temple to Apollo with ornate roof held up with Doric columns. Imagine how Cleopatra must have experienced this when you imagine it in it's glory day.

Today it is Roman Ruin, but no less spectacular for it. Immerse yourself in the pool and wade carefully around the fallen columns and other Roman artifacts as you soak up the health giving properties of the water!

Sit in the shallow waters and rest against the ornate columns, or pose for a photo while balancing, carefully, on one of the other submerged carved stones from the temple.

Modern facilities including safety ropes, steps with steel handrails, help to make it a safe and clean delight for the whole family. Changing rooms with lockers are available to hold your personal belongings while you soak in the pool. Wrist bands with keys are issued so you can carry the key to your locker while in the water.

The modern facilities built around the pool include shaded sitting out areas for members of your group not going into the water. Although the water is mostly shallow safety equipment is provided including life preservers on stands around the edges of the pool as there are some deep areas as well.

Flowering plants and trees in the lush garden around the pool contribute to the relaxing atmosphere, while just beyond the edges of the pool you can see other ruins of Hierapolis.

A hand operated pump in the traditional style lets you take water direct from the source to fill your water bottles and drink the good health that helped keep Cleopatra beautiful!

Proper swimwear and swimsuits should be worn in the pool.

Open every day of the year from 9pm until around 7pm. Entrance fee is TL 33 for two hours which includes changing rooms, for the locker there is an additional 5 Lira fee. Please bring your own towel or purchase a souvenir towel from the spa shop. A cafeteria beside the pool serves drinks and light snacks.

If you want only a short dip in the pool then consider visiting near closing time, which is around 7pm depending on the season, as entrance fee is discounted.

There is no fee to enter the garden and sit beside the pools if you are not swimming.

To best enjoy the pools consider visiting outside the peak hours of 11am til 4pm so as to have more space to enjoy the facilities.